3 February 1818: Another Hazlitt Talk & No More of Wordsworth or Hunt
Surrey Institution, Blackfriars Road, London
Keats attends another of William Hazlitt's successful lectures on the English poets at the Surrey Institution (mainly on Pope and Dryden). The lectures began 3 January, running until 3 March. Although his passions reside in philosophy and in painting (which he tries in his early years), his fame (yet modest financial success) by 1818 resides mainly in his work as an essayist, journalist, literary critic, and lecturer. He knows many of the great figures of the age, including Wordsworth, Coleridge, Leigh Hunt, Charles Lamb, and Robert Southey, and he will have plenty to say about them, particularly in his Spirit of The Age, published 1825. Hazlitt's natural and energetic prose style, coupled with his desire to speak out and have the final say, didn't always function to create friends.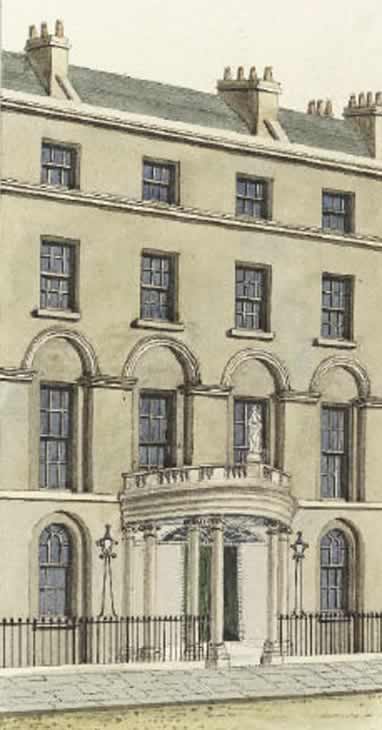 That Keats, aged 22, knows and converses with someone like Hazlitt tells us about the circles Keats now moves easily within—a faction of liberal London intelligentsia of the day—though he is nowhere near as famous or experienced as most of his literary/artistic friends; that Keats is extremely attentive to Hazlitt's critical views tells us something about the direction of Keats's poetic progress.
Hazlitt is the third in what might be called the Triple-H influence on Keats's poetics, the others being his friends Hunt and Haydon. But Keats has now largely moved away from Hunt's poetical sway (mainly the poetry of fancy and sociability), especially now that he is close to leaving his year-long project of Endymion behind. Haydon (who casts aspersion on Hunt's influence) continues to encourage Keats's independence, ideas, and genius in conversation and letters; and Hazlitt's thinking about Wordsworth's poetic egoism and the qualities of truly enduring poetry—like that of Spenser, Chaucer, Milton, Shakespeare, and the Elizabethan poets in general—are developed by Keats in what might be called his epistolary poetics: letters to his friends.
Keats writes a letter to his friend John Hamilton Reynolds, 3 February, about the bullying, limiting egoism of contemporary poetry, and he mainly has Wordsworth in mind: We hate poetry that has a palpable design upon us [ . . . ] Poetry should be great & unobtrusive, a thing which enters into one's soul, and does not startle it or amaze it with itself but with its subject. [ . . . ] Modern poets differ from the Elizabethans in this. Each of the moderns like an Elector of Hanover governs his petty state, & knows how many straws are swept daily from the Causeways in all his dominions & has a continual itching that all the Housewives should have their coppers well scoured: the antients were Emperors of vast Provinces, they had only heard of the remote ones and scarcely cared to visit them.—I will cut all this—I will have no more of Wordsworth or Hunt in particular [ . . . ] Why should we kick against the Pricks, when we can walk on Roses? Why should we be owls, when we can be Eagles? Poetry, Keats suggests, needs to avoid pettiness, pedantry, and personality. Why remain flightless in the dark rather than soar above and see all?
Once more, Keats's strong and significant declaration of independence—I will cut all this—derives a fair amount from Hazlitt, who is consistently critical of Wordsworth's all-consuming subjectivity, while applauding the Elizabethans. Keats desires a subtle yet intense poetic voice—great & unobtrusive—and one that comes from the subject rather than from trifling, picky subjectivity and egotism. Keats desires to take in a larger scope, a scope without an obtrusive and petty palpable design. The subject, and not subjectivity, must govern poetry.
Keats will not want his poetry to be, as it were, driven by circumscribed, trivial purpose. At this point we hear Keats more determined than ever to, as it were, distance himself from his contemporaries, those Modern poets. But we have to remember: Keats hugely respects Wordsworth's depths—his moments of grandeur and genius, in fact—in understanding nature and the complex relationship between joy and suffering, based on restoration and acceptance. In all of this then, here is one of the moments we see Keats strongly articulating his personal aspirations, even with a little rhetorical panache.
Keats's acquisition of this certain kind of scope and measured intensity will, by the end of the year and into 1819, mark a remarkable development from his early poetry.