22 October 1818: Walking With Hazlitt, Thinking Like Hazlitt, Not Playing Racquets Like Hazlitt
From Fleet Street to Covent Garden, London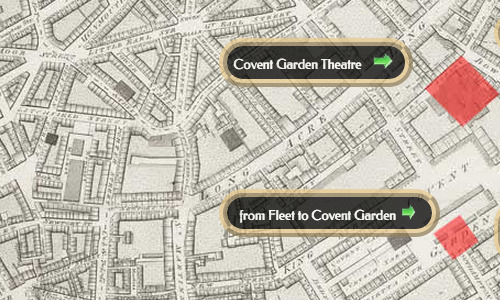 Where Keats walks with William Hazlitt, the literary critic, journalist, essayist, and lecturer. Hazlitt becomes an important, perhaps crucial, influence on Keats's poetics and, as a result, his poetry. Keats found Hazlitt's depth of Taste one of few things to rejoice at in the Age (letters, 10 Jan 1818). Importantly, through reading, Hazlitt's thinking forces Keats to think in terms of evaluative criticism—what's good, what's bad, and why—and what are the qualities of artistic genius.
When Keats runs into Hazlitt in the middle of London, he discovers that Hazlitt is on his way to play Rackets (letters, 24 Oct)—a variation of fives (related to handball, or called hand-tennis, and sometime also referred to as hand-fives). Hazlitt is apparently pretty good and relished taking on all comers. He loved the game, and he almost worshipped the prowess of the best player of the era, John Cavanagh. Hazlitt, in fact, will write a famous obituary about Cavanagh, in which he is almost as interested in taking a few jabs at some in the contemporary literary scene (published in The Examiner 7 February 1919, pp.94-95). What Hazlitt admires so much is Cavanagh's skill, his precision, and easeful power, and in reading the weaknesses of his adversaries—in short, the tack Hazlitt often takes in his own critical work.
Those who watched Hazlitt play witnessed an intense, hyper-competitive player, capable of screaming, swearing, stomping, groaning, and throwing his racquet in frustration; it seems he did not like to lose or make mistakes. One is tempted to say his on-court performance is simply an outlet for his more cerebral work; but, perhaps closer to the truth, his on-court behavior might be seen as an extension of his life of the mind. That is, as a writer, Hazlitt often exhibited an equally competitive side—he did not take prisoners, he never liked to lose an argument, and he needed to have the final word. That is, make the winning shot—or parting shot. Some of this does not quite sync with what Hazlitt says about the game, when he also notes the playing it is a good way to relax the mind.
Besides pointing Keats toward his considered views on key writers, Hazlitt's theories of imaginative identification—that the imagination is primarily sympathetic—are taken up and applied by Keats in his exceptionally acute ideas about poetic character. In turn, these ideas soon work themselves into Keats's best poetry.
Hazlitt's influence grows from at least as early as September 1817 (Keats reads some of the Round Table essays) and into early 1818, when Keats attends some of Hazlitt's famous lectures. Keats would almost certainly not have developed his notion of Negative Capability (27 Dec 1817) without Hazlitt's fueling ideas; and his new poetics articulated at the end of October 1818—how, as the camelion Poet, he wants to be distinguished from the wordsworthian or egotistical sublime—derive from his accumulative reading of and contact with Hazlitt. Specifically, Keats adopts some of his terminology from Hazlitt, and in particular, disinterestedness, which Hazlitt first describes in his Essay on the Principles of Human Action: An Argument in Defence of the Natural Disinterestedness of the Human Mind. Here, Hazlitt argues that entering the identity or perspective of another is in fact natural and not a form of egotism, and from this it is only a sideways step to how Keats merges this into his idea of how the poet can assume the qualities and character of his subject, thus leaving the ego behind—the camelion poet has, according to Keats, no self. For Keats, this is a decisive step forward in his thinking, and he considers disinterestedness a supreme human quality (letters 13 Jan 1818, 19 March 1819). [For more on Hazlitt's influence on Negative Capability, see 27 December 1817.]
Keats's ideas about his own Poetic Character and that a poet has no identity are arousing enough that, at length, Richard Woodhouse reports and quotes them to support Keats's genius.
October is primarily taken with attending to his younger brother's (Tom's) quickly slipping health. Keats nevertheless manages to have contact with at least a dozen of his friends during the month. He writes, I have too many interruptions to a train of feeling to be able to write poetry (21 Oct).