15 October 1815: Keats's Continues Medical Training; But a Poet He Will Be—he hopes
Guy's Hospital, London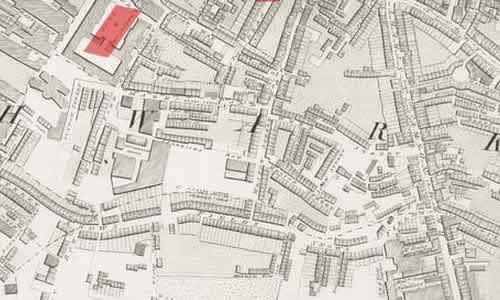 In October 1815, Keats is registered at Guy's Hospital as a medical student for a year-long course of studies, when he could have just taken an available six-month course. Guy's at the time is affiliated with St Thomas' Hospital (they are known as the United Hospitals); between them, they are the leading teaching hospitals in Britain, and they are particularly known for their expertise in surgery and anatomical studies, mainly because of a few of their progressive faculty, while also charitably driven by attempting to serve the poor. There was much experimentation at the hospitals.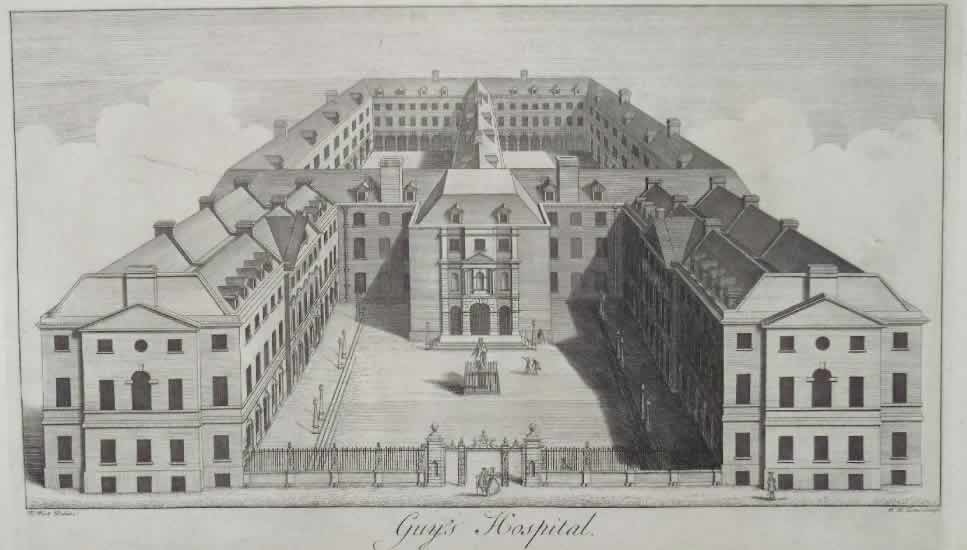 By the end of October, Keats is meritoriously selected from a large range of students as a dresser to surgeons (possibly for the next position available), which would have afforded him a small refund on his tuition. About five months later, by early March 1816, Keats is officially a dresser, assigned to supervised for a year with a surgeon (in Keats's case, it was with the rather reckless—and somewhat deaf—William Billy Lucas, Junior). The end result would work toward credentialing Keats. Testimonials were part of the review process.
How did Keats get to this position, to what we might call the second phase of his medical training?
The first phase begins in 1811, when Keats is apprenticed—indentured—for five years to a reputable surgeon, Thomas Hammond, at the fee of 210 guineas (which also included room and board). With Hammond, Keats would have had experience with everything ranging from applying leeches to pulling teeth and delivering babies, along with acquiring general diagnostic knowledge. This arrangement with Hammond is cut short for uncertain reasons, but is possibly related to Keats's unhappiness with his master; or perhaps, quite the opposite, he is presented with the opportunity to move into higher training via college certification with Hammond's blessing and support; that is, Hammond would of course have to provide some documentation to attest to Keats's completion of the apprenticeship. Hammond was himself a student at Guy's.
Keats's motives for continuing with this second phase of his training are, then, complex, beyond the fact that it would have eventually provided him with a decent living. There is the personal side: Keats does not like the idea of performing surgery; as Keats tells his friend Charles Brown, he was utterly fearful that, during surgery, he might make a lethal mistake with just one small slip of the lancet (Brown records this in his memoir about Keats). Indeed, surgery at the beginning of the nineteenth century was often brutal, bloody, and chancy, and not for the faint of heart—neither antiseptic surgical practice nor anesthesiology as yet exist. Despite this, Keats would have been very well trained, gaining much practical experience beyond his wide-ranging lectures by routinely visiting the wards and assisting, though places like the hectic dissecting rooms were gruesome, with the cadavers practiced upon (secured illegally by professional and well paid body snatchers—so-called resurrection-men) not always in the best of shape—maggots were common to the scene. Nevertheless, Keats's training and the training facilities at the United Hospitals was among the best in Europe, and some of his teachers—like Astley Cooper and Henry Cline—also among the leading teachers of anatomy and surgery. Cooper is in fact later knighted for his work, and no doubt Cooper's famous oratorial gifts that combined passion, eloquence, and profound subject knowledge struck Keats the poet.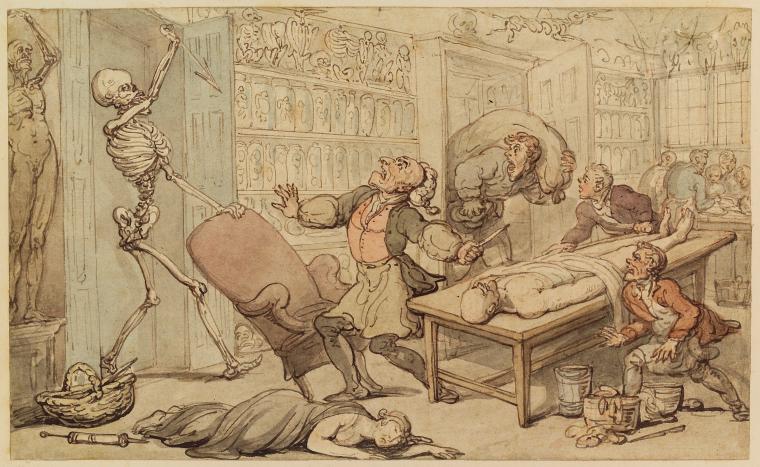 What remains somewhat uncertain, then, is the degree of Keats's commitment to the medical profession, though his efforts (and evidence from some close to him) suggest he was genuinely interested in the medical profession. But if surgery puts him off, why might he accept the dressership? If he had not shown some strong signs of both skill and dedication, why would he have been selected for the much sought-after dressership, and, along with it, the testing and increased responsibilities of a duty dresser? Nothing suggests that, as a medical student, Keats was anything but diligent; his medical notebook that survives shows that he attended lectures and took fairly good notes, despite the occasional flower doodle in the margins. Much later, when Keats seems to have moved beyond his medical career and fully into his life as poet, he still holds with him the idea and value of studying medicine (letter, 3 May 1818, to Reynolds); and as late as March 1819, when on the verge of writing his greatest poetry, he entertains moving to Edinburgh to study for a physician (letter, 3 March, to the George Keates).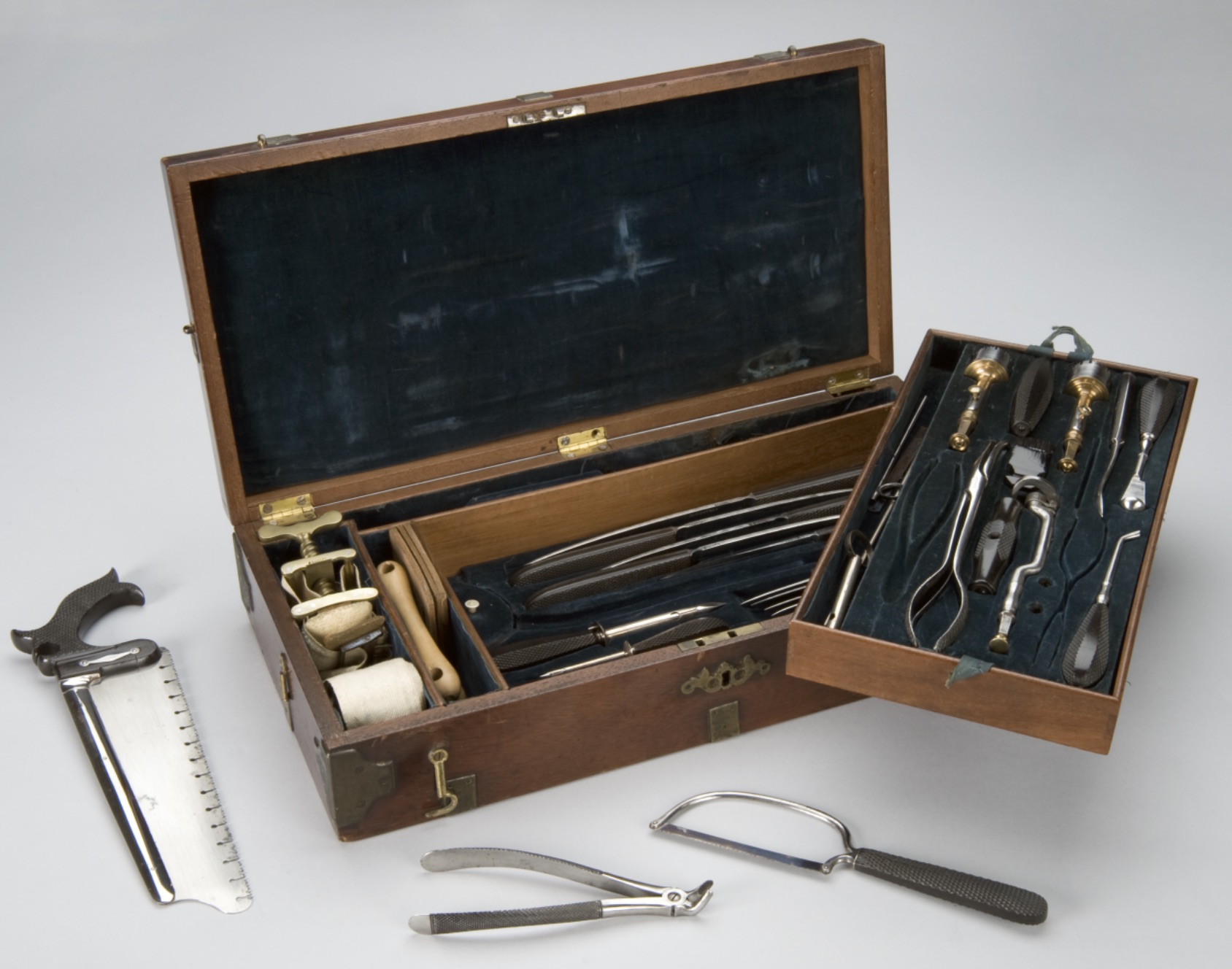 Some background: Before 1815, apothecaries were not professionalized or licensed by examination, and there was a fair amount of quackery under the nomination. But in mid 1815, just as Keats finishes his apprenticeship with Hammond and begins training to become an apothecary-surgeon, the Apothecaries' Act is passed, thus pointing Keats toward a very decent, legitimate livelihood under the umbrella of practical medicine.
Surrounded by other students, and living in the middle of town, Keats no doubt learns much about London's varied inner life in the varied inner city, though in a poem likely written during the period—the Petrarchan sonnet To Solitude—he imaginatively transports himself from the jumbled heap / Of murky buildings to wax upon the bliss of Nature—a Wordsworthian-inspired sentiment, no doubt, and something of a common Romantic trope. (We sometimes know the poem as O Solitude, and it becomes Keats's first published poem—in Leigh Hunt's The Examiner, 5 May 1816.)
Noteworthy: this autumn Keats purchases the two-volume Poems by William Wordsworth, published earlier in the year; it will, however, take a few years for Keats to absorb and, crucially, critically assess the nature and qualities of Wordsworth's accomplishment. We have to imagine Keats writing poetry while, at the same time, and with conflicted purposes, studying for his medical exams.
By July 1816, aged twenty, Keats completes and passes a fairly involved four-part medical exam that qualifies him to practice; permission to even write the exam was reserved for only a few. In December 1816, he is officially listed as a certified apothecary. Then, to the horror of the family trustee, Richard Abbey, Keats begins to express his desire to give up medicine for poetry, though Keats, it seems, likely continues some work as a surgical dresser into until early March 1817—exactly when his first volume of poetry is published—but his decision is then fixed. A poet he will be. Keats was, at the time of telling Abbey, fully confident in his calling and potential: I know that I possess Abilities greater than most Men, and therefore I am determined to gain my Living by exercising them (as reported by Keats's friend, supporter, and publisher, John Taylor, 23 April 1827). This is something of a remarkable statement for a young, unknown, wanna-be poet; the confidence predicts an even more remarkable statement, when, 14 October 1818, he writes, I think I shall be among the English Poets after my death (written to his brother and sister-in-law, George and Georgian Keats).
Falling into and embraced by a kind of progressive literary and artistic circle based around poet, critic, and celebrity journalist Leigh Hunt in late 1816 plays a crucial role in Keats's poetic aspirations relative to his a medical career.* Thus the year-long course of studies that begins in October 1815 begins to wane exactly a year later when he is introduced to Hunt and, immediately, into Hunt's wide circle. At various difficult moments in his later life as a poet (translation: having no immediate success as a poet), Keats nevertheless has passing thoughts of returning to the medical profession; and no doubt Keats's very close encounters with the precarious physicality of medical profession works its way into his views and philosophy, as well as into his poetry. In an age of fairly brutal surgery and haphazard diagnosis, how could Keats not know something of suffering and mortality?
To look for: at least some of Keats's acquired medical lexicon, his considerable training, and the varied knowledge associated with medicine in the early 19th-century works itself into his poetry. Thus, for example, words like sensation hold possibly expanded meanings; likewise, the mystery of the living, creative mind beyond the pure physiology of the brain and body no doubt challenges and profitably complicates his own poetics and poetry. And, obviously, Keats's front-line medical training (some of it the equivalent of emergency-room experience) would have had him necessary face human pain, suffering, and frailty in ways more direct than almost any other poet. Thus we might, for example, consider more carefully a probing passage like this (in an equally probing letter), which ingeniously both links and separates the physical and metaphysical mind, while invoking the poetic achievement of Wordsworth: I am continually running away from the subject—sure this cannot be exactly the case with a complex Mind—one that is imaginative and at the same time careful of its fruits—who would exist partly on sensation [and] partly on thought—to whom it is necessary that years should bring the Philosophic Mind (to Benjamin Bailey, 22 Nov 1817). And when we hear poet Keats address mortality and human suffering, as he does so graphically in the third stanza of Ode to a Nightingale, where he pictures illness, pain, and suffering as something to both face and escape from, we might also picture medical Keats.
So, in terms of Keats's progress, this period in Keats's life should give us some pause to consider the complexity of both Keats and his situation. What we do know is that, for the year-and-a-half that Keats is affiliated with Guy's Hospital—from October 1815 until March 1817—he composes somewhere around forty poems; we also know he is doing well at his medical training; we know that when Keats's speaks of the mystery of the body, that his medical experience must form at least part of thinking; and, as mentioned, almost in the middle of this period, his social-cultural network explodes via meeting Hunt in October 1816.*
What's a young, brilliant, good-looking lad to do?
[*See here for a mapping of Keats's social network and Hunt's place in it.]