Keats's Family Home, 1797
Craven Street, off City Road (now Cranwood Street), London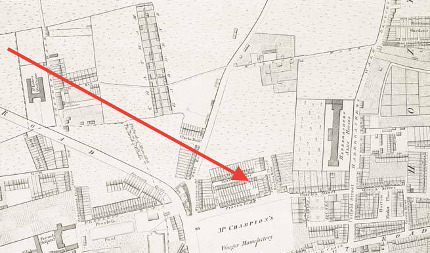 By the end of 1797, Keats's family live at 12 Craven Street, close to City Road, which would have been on the outskirts of the City of London proper.
At the time, the area links and mixes both suburban and urban characteristics by opening up to country and pastoral landscapes; it would have been quite diverse in its demographics. Here, perhaps, Keats's poetic impulses have some kind of beginning, but this may be romanticizing the mystery of poetic aspirations. We hear via Keats's friend Benjamin Robert Haydon that Keats at a very young age is obsessed with rhyming, though this is not particularly unusual for young children. But, at this point, there is nothing in Keats's family background or circumstances as a young lad that fully predicts his interest in poetry, let alone his remarkable poetic sensibilities and desire to be an enduring poet. Keats will, as a young man, come to articulate that the principle of beauty is the prime directive in his passions and interests, and this, too, is unforeseen in what we know of his childhood.
The young family leave Craven Street in 1802, and move into the Swan and Hoop Livery Stables, a commercial property initially owned by Keats's mother's family.
1797: Coleridge publishes Kubla Khan and his 2nd edition of Poems; Ann Radcliffe publishes The Italian; Edmund Burke dies; Mary Shelley (Godwin) born; Mary Wollstonecraft dies; Wordsworth and Dorothy move into Alfoxden; Massacre of Tranent; first descent of a frameless parachute (in Paris).