24 December 1801: Keats's Brothers are Baptized
St. Leonard's Church, Shoreditch, London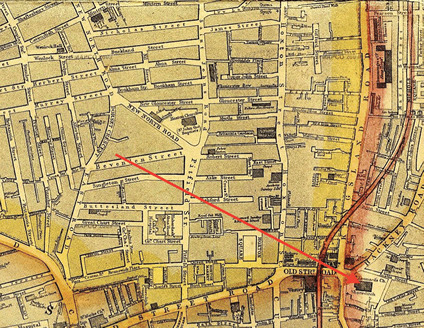 Where Keats's brothers—Edward, Tom, and George—are all baptized, 24 September 1801. Keats's siblings:
Edward, born 28 April 1801, December 1802.
Tom, born 18 November 1799, dies 1 December 1818.
John, born 31 October 1795, dies 23 February 1821.
George, born 28 February 1797, dies 24 December 1841.
Younger sister Fanny (Frances Mary) Keats is born 3 June 1803, but is baptized at St. Botolph's 17 June 1803; she dies 16 December 1889.
From the church's own official history:
Dedicated to St. Leonard, the patron saint of prisoners and those who are mentally ill, there has been a church here for those many centuries. The first Christians in England were probably soldiers in the roman army. The church stands on the site where all the Roman roads joined. You can travel from here to Chester, Bath, Lincoln, York, Chichester and Colchester along their old routes. The Wallbrook river rises outside the front door which made it a perfect site for the army camp. It is just possible, although hopeful, that Christians were here while Claudius was still emperor and Luke was writing his gospel.