20 December 1817: Art Without Intensity: Keats sees Benjamin West's Death on the Pale Horse
125 Pall Mall, London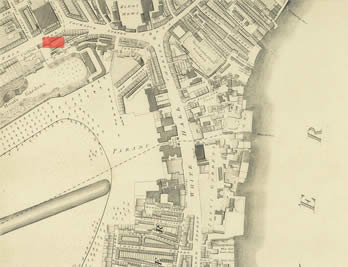 Benjamin West's gallery, where Keats views West's painting Death on the Pale Horse. West (1738-1820), an American, is a neoclassical painter of mainly historical scenes.

Keats profoundly articulates a significant lack in the otherwise fairly impressive painting (at least in its size—176 x 301 inches). With a little passion, Keats writes, there is nothing to be intense upon; no women one feels mad to kiss; no face swelling into reality, the excellence of every Art is its intensity, capable of making all disagreeables evaporate from their being in close proximity with Beauty & Truth. Keats also believes that great art—like King Lear—excites a momentous depth of speculation (letters, 21/27 December 1817). For Keats, West's painting does not solicit such responses, even though it is, as he says, a wonderful picture, especially given West's age. One is tempted to think how, later, when in the spring of 1819 Keats is writing his greatest poetry, and his imagination explores a Grecian urn, how the images upon the urn, though mysterious, cause the speaker to feel such intensity, with those images swelling into reality. In a manner of speaking, West's painting attempts to tell too much without feeling quite enough, and its attempt to create profound spectacle (and therefore something of the sublime) is perhaps dispersed and overly elaborate. It is, at it were, too conscious of itself as art; and this idea will likewise be expressed in Keats finding some fault in Milton's overly artful qualities. The painting of course has a subject, but, in Keats's view, it is without intensity or profitable uncertainty—it requires no depth of speculation.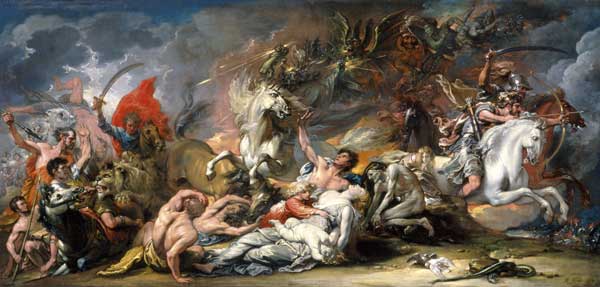 Aspects of Keats's critical posture that notes a lack of intensity in West's painting likely leans a little upon William Hazlitt's ideas, and perhaps, in particular, Hazlitt's idea that indifferent art lacks gusto—that is, fully expressive and powerful feelings, as well as truth in character.*
Keats here (that is, at this point in what we can call his epistolary poetics) importantly signals a remarkable direction for his poetic development, for just a few lines after noting the limitations of West's painting in one utterly precise declaration—there is nothing to be intense upon—Keats arrives at his breakthrough concept of Negative Capability, that is, when a man is capable of being in uncertainties, Mysteries, doubts, without any irritable reaching after fact & reason. [. . .] with a great poet the sense of Beauty overcomes every consideration, or rather obliterates all consideration. This defining insight offers Keats a particular position relative to subjects that before seldom appears in his poetry—and will take over a year to appear in his poetry. It also leads us to an important insight about Keats's poetry, that his greatest work is founded upon the sense that the subject is all, that rendering the subject beautifully and for its beauty, trumps all other purposes and aspirations—it is all we need to know. This is as much a philosophical point as it is one of individual aesthetics. Poetry should not wave pedantry, self-interest, or self-admiration before the reader; instead, it should solicit reflection and, if appropriate, profitable uncertainty—and, once more, all in the name of the sense of Beauty. Poetry should risk something. [For more about the circumstances behind Keats's formulation of Negative Capability, see 27 December 1817.]
With a first draft of Endymion behind him, Keats begins to see that his poetic progress may depend upon being as deeply intense as Wordsworth, as selfless as Shakespeare, and as fixed upon finely executed description as Milton. This is a tall order that, by 1819, his poetry will live up to. December, then, with Keats coming to terms with the nature of Edmund Kean's natural and sensual articulation of Shakespeare's language, and his observation of West's lack of artistic intensity, combined with the ideas swelling about him via his friends and his reading, not to mention meeting Wordsworth—all of these move Keats's ideas significantly forward. Again, poetic implementation of those ideas will have to wait, or incubate, for about a year. It is well worth the wait—for him and for us—though, in relative terms, such a leap comes so rapidly as to be irresistibly, and critically, intriguing.
*Hazlitt writes his essay On Gusto in The Examiner on 26 May 1816, and he describes how gusto is present or not present in the work of Titian (yes), Van Dyck (no), Michelangelo (yes), Rubens (sometimes yes, sometimes no), Claude (no), Milton (yes), and Shakespeare (yes). Hazlitt likes his pithy essay enough to subsequently publish it in two other venues.