The third week of December 1817: Keats Meets Wordsworth
28 Queen Anne Street, London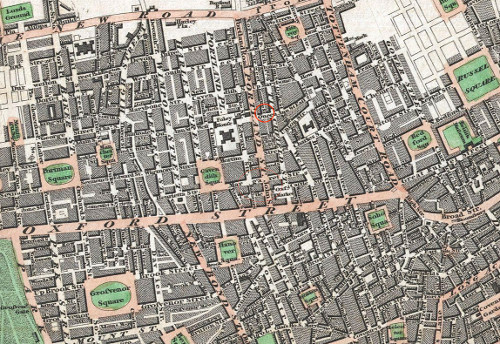 During the third or fourth week of December, Keats goes with his close friend at the time, the painter Benjamin Robert Haydon, to 28 Queen Anne Street, to meet William Wordsworth at the residence of Thomas Monkhouse, a well-to-do London merchant and cousin of Wordsworth's wife, Mary. Haydon arranges the meeting. Wordsworth is apparently in town to do some business that likely involves lingering family money matters related to the death of Wordsworth's brother, Richard. Initially, he meets up with another brother, Christopher.
In December, Wordsworth will sit for Haydon as Haydon sketches him (on two occasions it seems: 2 and 22 December, at Haydon's studio in Lisson Grove); Wordsworth will read some of his poetry aloud during these sessions, and Haydon and Wordsworth seem to have mutually praised each other in their high calling. Haydon at this point is reverent fan of Wordsworth's superior gifts; the trouble is, Haydon is likewise a fan of his own artistic merit and (he believes) destined greatness.
Given Wordsworth's status as perhaps the most important poet of the era, this meeting would have been an extraordinary moment for the aspiring young Keats, who is still struggling to find a poetic voice; and it is a voice and poetic character that Keats will eventually conceive of in light of (yet contradistinctive from) Wordsworth's. In just under a year, just as Keats is about to take a remarkable leap in the quality and nature of his poetry, Keats sees himself as a camelion Poet, to be distinguished from the wordsworthian or egotistical sublime (letters, 27 Oct 1818). To reduce the differences between the two: Keats's representation of poetic insight is via an empathetic, sensual, and profitably variable imagination; Wordsworth's is through a legislating subjectivity and subtle, yet profound, sense of self.
At this meeting at Monkhouse's, Keats apparently recites some of his recent poetry to Wordsworth (a passage from his recently completed Endymion). According to Haydon, Wordsworth apparently remarks that it is a very pretty piece of paganism. It is impossible to establish how this was said (with faint praise? with condescension? indifference? a nod and a wink?) and how Keats reacts. Haydon, at least, thought it was unfeeling and was disappointed, but Haydon records this quite a bit later when his regard for Wordsworth is waning (by 1820 he is very upset that Wordsworth won't lend him money). As far as we know, Keats never directly addresses Wordsworth's comment. Keats sees Wordsworth a number of times over the next few weeks, and he attempts to call upon him on a walking tour through northwest England into Scotland, in late June 1818 (see 26 June 1818 for more on this), so this first meeting, no matter what happened, did not discourage any further desire to contact Wordsworth.
As suggested, in his poetic progress, Keats's grappling with and attempts to understand Wordsworth's poetic style and depth is both central and problematic: Wordsworth's growing conservatism and protected sense of self-worth bothers Keats, but Keats also realizes Wordsworth's penetrating insights about the nature and mystery of the human heart, loss, and suffering are to be praised, if not emulated—if not in style, at least in spirit, scale, and depth. Keats begins to consider the possibility that poetry might reflect philosophical qualities that can unite, without contradiction, both disinterestedness and intensity. In March 1819, during the period of Keats's greatest composition, Keats states that he admires half of Wordsworth—presumably early Wordsworth, or Wordsworth the poet who has not pandered his poetry to petty subjects or compromised his beliefs with Tory values and connections.