8 March 1805: Death of Keats's Grandfather; the Family Estate; to Edmonton with Grandmother
St. Stephen's Church,* Coleman Street, London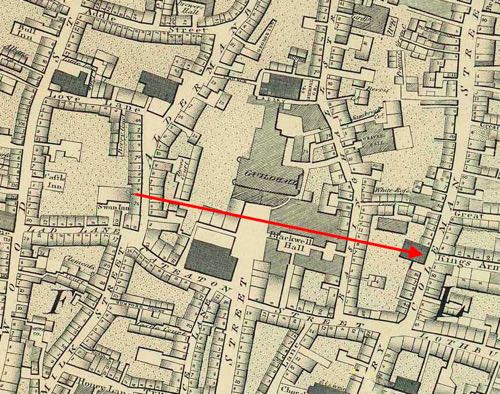 Keats's maternal grandfather, John Jennings, dies, 8 March 1805, and six days later he is buried at St.3 Stephen's Church, Coleman Street. Keats's grandmother—Alice Jennings—moves the four Keats children from Ponders End, Enfield, to live with her at Church Street, Edmonton. Keats is nine years old. At this relatively young age, Keats, in the period of less than a year, has now lost his two closest, older male guides—his father (in April 1804) and now grandfather.
John Jennings leaves a considerable amount of money in his will (something upwards of about 13,000 pounds, which is a very decent sum in 1805), but due to the will's lack of clarity, combined with other eventual claims to the money (including, initially, Keats's own mother, Frances), legal proceedings make full disclosure and disbursement a problem that in years to come,—particularly after 1810 (with the death of his mother) and the death of grandma Alice, in 1815. Keats will find himself at the mercy of the estate's sometimes murky management by its co-managers. After 1816, Richard Abbey, becomes the sole guardian of the family money.
More specifically, as an adult, Keats eventually has to deal with these continuing financial squabbles as he, too, struggles with acquiring and managing his share of the estate—he does so randomly and piecemeal, mainly because he attempts (unsuccessfully) to live on credit based on his share. Keats is never aware that part of the legacy from the family estate is available to him via the courts, which is unfortunate, since there will come a moment when Keats is more or less broke. It appears that Abbey, too, may not be fully aware of some of these funds. Abbey and Keats never come to trust each other.
Keats secretly commemorates the death of his much-loved grandmother in one of his earliest surviving poems, As from the darkening gloom a silver dove. Unfortunately, the genuine depth of his feeling, which attempts to find joy in grief, is compromised by the poem's crowded emotional and imagistic confusions. The poem thus expresses Keats's belief that his grandmother's honorable and loving nature will be rewarded by heaven's immortal quire. The poem's indifferent quality and overreaching style is to be expected given Keats's immaturity as a poet.
*St. Stephen's is demolished in 1940 in a German bombing raid. See 23 April 1804 for a note on the fate of the church and the relocation of the Keats family graves.