17 August 1817: Keats's On the Sea is Published;
The Champion
Carisbrooke, Isle of Wight
Keats writes On the Sea back on 17 April 1817 while staying at Carisbrooke. At the same time, he attempts to begin work on Endymion, his quite deliberate long project poem—he characterizes it as a test of poetic invention. He immediately sends On the Sea in a letter to his very close friend, the critic and poet John Hamilton Reynolds. Reynolds has the poem published in The Champion exactly four months later, 17 August.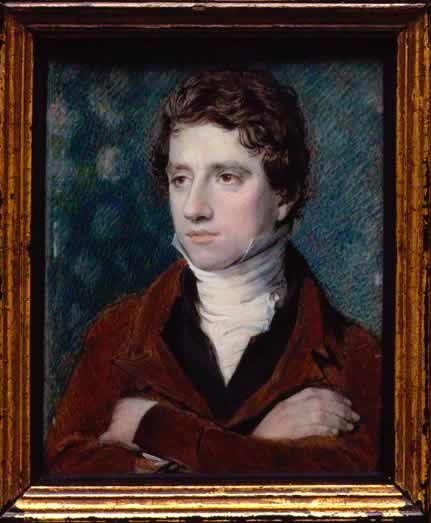 The sonnet—inspired, it seems, by a passage from King Lear—suggests that looking and listening to the eternal whisperings of the sea may be restorative and inspirational, which are fairly common tropes of response and feeling. The poem, however, is not the worst of Keats's work in this period of early writing, since a few lines of composed and controlled phasing accompany the more predictable and over-reaching sentiments, as well as some stumbling, inverted phrasing (like uproar rude). The implicit subject—the drama of the moment for inspiration (those who can sense, see, or hear the eternal sea)—is of course close to Keats during this phase of his poetic development.
This letter to Reynolds (17/18 April) is also revealing in that Keats confesses his raison d'être: I cannot exist without poetry—without eternal poetry. He also mentions that he experiences some anxieties as he approaches committing his energies to the uncertain Endymion. Keats's passion for poetry is palpable, which, however, does not necessarily translate to writing great poetry—yet.
More about The Champion, A London Weekly Journal: standing in for Reynolds (who is away in Exeter and is a regular reviewer for The Champion), Keats also reviews for The Champion a few times (21 December 1817, on Edmund Kean; 4 January 1818, two reviews, one on Retribution, the other on the pantomime Harlequin's Vision); and Reynolds positively reviews Keats's 1817 Poems collection in The Champion, 9 March 1817, while also publishing Keats's sonnets on the Elgin Marbles. For most of its publishing history (1813-1822), The Champion attempts to hold a nonpartisan perspective.
Keats finishes a first draft of Endymion, Book II, probably toward the end of this month. Two down; two to go.