5 May 1816:
To Solitude

: Keats's First Published Poem, Hunt's Liberal Spirit of Thinking, & the Possibilities of a Literary Life
No. 15, Beaufort Buildings, London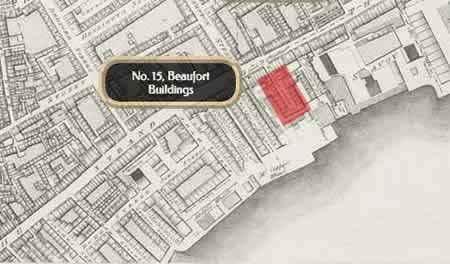 Where the journal The Examiner is published. The Examiner (a strongly independent, reformist paper) is the venue for Keats's first published poem, the sonnet To Solitude!, 5 May 1816, as well an important short piece by its co-publisher and editor, Leigh Hunt (1 December 1816), which singles out Keats, Percy Shelley, and John Hamilton Reynolds as young poets of a new school, one that emphasizes love of nature and that appeals to thinking over talking; the added promise of these poets, Hunt claims, is an understanding of human nature. That Keats's first publication is in Hunt's paper represents quite an accomplishment, given the already-established poetic company his poem now (and suddenly) joins. The Examiner is, both culturally and politically, front and centre in Regency England debates over tastes, style, and ideology.
Keats's To Solitude is faintly accomplished, though, with its turning to flowery slopes, leaping deer, and crystal river, it invokes the fairly common trope of privileging the living scenes of nature over the dismal city. One problem in the poem is the vaguely confusing circumstance that the speaker's solitude is sweeter, more pleasurable, and blissful when kindred spirits can, in Nature, partake in sweet converse. The appeal to nature and solitude also owes something to Wordsworthian sentiment. The exact composition date of the poem is not clear, though it could have been as early as October or November, 1815. Given that Keats makes a similar appeals to nature's restorative effect in sonnets written in the summer of 1816 (To one who has been long in city pent and Oh! how I love, on a fair summer's eve), dating for To Solitude could also be spring 1816—that is, not too long before it is published.
The Examiner (Hunt co-publishes it with his brother, John) first appears 3 January 1808 as a 16-page weekly that, class-wise, mustered a readership generally ranging from middling to highbrow. At its height, circulation is about 8,000. Hunt's free-spirited journalism will, in 1813, lead to him being convicted for libelling the Prince Regent, and while in jail he famously turns his rooms into artsy quarters where he meets with many of the age's most prominent figures, in a sense forming a kind of jailhouse parlor-coterie. Hunt, writing in his journal while in jail, provides the best description of his journalistic values: he writes he is devoted to the very general politics, and principally to the ethical part of them, to the diffusion of a liberal spirit of thinking, and to the very broadest view of characters and events, always referring them to the standard of human nature and common sense (16 March 1813); we cannot therefore speak about Hunt without associating him with liberty and reform; neither can we ignore his profound understanding of rhetoric, and that words are weapons. Yet Hunt, to his credit, remains unsystematic in his thinking. Keats would have been aware of all of this, and Hunt becomes a kind of martyr and model for the young Keats—a voice of cultured independence, coloured by the contemporary political scene, but not rigidly ruled by partisanship. But mainly, it is the liberal spirit of thinking that attracts Keats.
Hunt becomes a close friend of and literary influence on Keats by the end of the year. Crucially, Hunt introduces Keats into a wide-range of London's cultural intelligentsia,* while also unconditionally encouraging Keats's decision to become a poet. Hunt fashions himself in the role of mentor to Keats, and Keats will in fact be publicly labelled as Hunt's student, if not his literary lackey. [For more on Keats branded as Hunt's student, see May 1820.]
But in order to develop into a great poet, Keats consciously comes to compose verses that differ from Hunt's poetry of fancy, which in some ways opposes the poetry of imagination, and where ideas of entertainment and sociability are central. In truth, Hunt's journalism and criticism, as well as his instincts about and ability to connect with smart, interesting people, are superior to his poetic talents. Yet it is this large and at times collaborative group around Hunt (which is mainly a literary community), and via publications like The Examiner, The Indicator, The Round Table, The Reflector, and The Liberal, that supports and bolsters Keats's poetic aspirations.
Significantly, then, young Keats comes to see the very possibility of a literary life within the cultural energies of this large, diverse, and impressive grouping. Though Keats clearly and self-consciously will come to fashion a kind of poetics and then poetry that sees him beyond mere Regency cultural contexts, we nonetheless still recognize something of his Cockney beginnings in his mature Keatsian voice.
*Jeffrey N. Cox includes the following in the Hunt/Examiner circle, what can be called a second generation of Romantics: Elizabeth Kent, Keats, Percy Shelley, Mary Shelley, Lord Byron, Benjamin Robert Haydon, John Hamilton Reynolds, Charles Armitage Brown, the Ollier brothers, Horace and James Smith, Charles Cowden Clarke and his wife Mary Novello, Bryan Waller Procter (Barry Cornwall), Vincent Novello and his wife, Thomas Alsager, Thomas Barnes, Thomas Love Peacock, William Hazlitt, Edward Holmes, William Godwin, Thomas Richards, the Gattie brothers, Charles Wells, Charles Dilke, P. G. Patmore, John Scott, Walter Coulson, Charles Lamb, Barron Field, Joseph Severn, Douglas Jerrold, Thomas Noon Talfourd, and Cornelius Webb. (Based on Cox's Poetry and Politics in the Cockney School, 1998.)