20 March 1810: Keats's Mother Dies
St. Stephen's Church, Coleman Street, London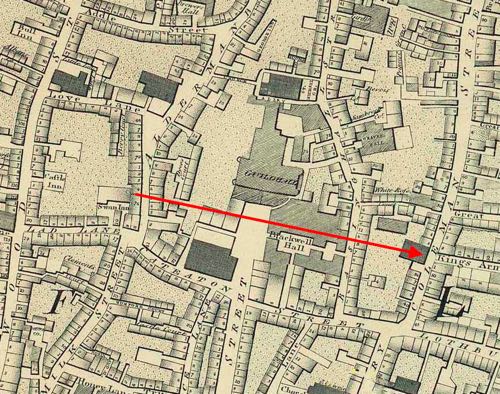 Keats's mother, Frances, aged 35, dies of tuberculosis, the so-called family illness, which also eventually takes all the brothers: Tom in 1818; John in 1821; and George in 1841. Frances is buried at St. Stephen's Church, Coleman Street, on 20 March 1810. [For information about the Keats family graves being relocated, go to 23 April 1804.]
Young Keats, just fourteen years old, is devastated, having diligently cared for her. Both his mother and father have now passed away. He later recalls that death had somehow always intruded upon his life; there is the death of his maternal grandparents (in 1805 and 1814) and then his brother, Tom, in December 1818. The saving feature during Keats's younger years is the loving stability offered by his maternal grandmother, Alice Jennings, as well boarding at Enfield School (Clarke's Academy), which provides the initially boisterous Keats with some guidance, and then the slightly maturing and studious Keats with experience, opportunities, values, and a library. Not to mention that the headmaster's son, Charles Cowden Clarke, eight years older than Keats, eventually makes the pivotal connection in Keats's writing career: Clarke introduces Keats to celebrity journalist, poet, critic, and publisher Leigh Hunt, in October 1816, which immediately launches Keats into a circle of artists, publishers, poets, critics, scholars, and writers.
With the encouragement of Clarke, not long after his mother's death, at age 14, Keats turns to poetry (and a little translation), and this begins to engross his attentions. Clarke also strongly tutors Keats's tastes and interests in music, drama, and, more importantly, literature. Spenser is the main literary interest,
In experiencing the passing of his parents relatively closely in time and so early in his life, the deaths almost certainly contribute not just to a growing anxious and sometimes depressed disposition that unevenly contends with uncertainty and loss, but also to the formation of his poetic ideas and ideals; these will be expressed in typical Keatsian subjects ranging from fame and ambition to suffering and immortality—and, of course, death. But only after deeper and very deliberate study of, mainly, Shakespeare, Milton, Dante, Homer, and Wordsworth, will Keats come to poetically represent these topics in original and complex ways, with the growing realization that lighter chivalric and romantic motifs perhaps limit his desire for more complex, original, insightful, and enduring poetry. What should occupy the mature poetic imagination? Is the poetic imagination in fact a way of knowing? A good example of a dead-end, derivative chivalric poem without much deeper purpose is his early 1816 composition, Calidore. But even poetic gains to come, in his poetic repertoire Keats never completely drops the world that Spenser offers in The Faerie Queen, but in his final phase of composition, he turns to darker aspects of this world in two brilliant, evocative poems: The Eve of St. Agnes and La Belle Dame Sans Merci.