6 March 1818:
Endymion

: A Trial of Perseverance; or, Mistakes are Opportunities for Learning; To Teignmouth
Exeter to Teignmouth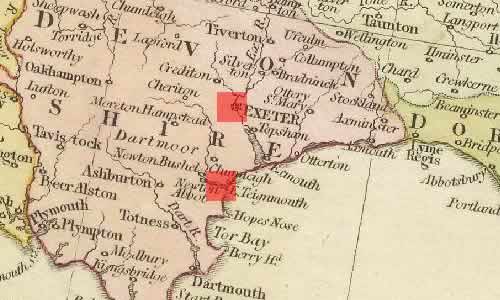 Via Exeter, and running into a severe storm that hinders travel, Keats leaves for Teignmouth from London on 4 March. Keats apparently travels on the outside of the coach, which would have been cheaper seating but, in bad weather, very nasty. Keats gets to Exeter on 6 March.
Keats, aged 22, is on his way to visit his brother, Tom, aged 18, who is quite ill with consumption. Keats is in a way relieving his other younger brother, George, who has been taking care of Tom. Keats also hopes to get some work done as well as enjoy the countryside. Sadly, Tom has become a huge burden, both for Keats and George. This only increases over the coming months. Before the end of the year, on 1 December, with Keats beside him and George in America, Tom passes away, aged 19. Keats stays at Teignmouth for just under two months, and he is back in Hampstead by about the end of the first week of May.
By the middle of March, Keats has copied out the fourth and final book of his long poem, Endymion, which he began working on in April 1817. The poem is motivated mainly as a test or trial of his inventive and imaginative powers, as well as an exercise of perseverance that he felt, at least initially, might prove his dedication to poetry and earn him the title of poet. By the end of the process, his enthusiasm for the project has slumped, though he wants to believe that even failure represents some kind of progress. Before even arriving at Teignmouth, Keats's desire to move forward is very clear: I am anxious to get Endymion printed that I may forget it and proceed (27 Feb 1818). This is terrific self-advice. And how deliberate it sounds!
Keats completes a corrected, final draft of Endymion for his publishers (Taylor & Hessey) by 14 March. He struggles with a preface for the poem: awkwardly pressured by his publishers and a friend (John Hamilton Reynolds), he revises the preface. Nevertheless, in its admission of great faults and immaturity, the final version of the preface opens Keats and the poem up to public criticism. Endymion, he declares, is a feverish attempt, rather than a deed accomplished. He is right. At one point, Keats at a fairly impressive dinner party even suggests to an acquaince—Joseph Richie, who is about to go off to explore Africa—that he take Endymion with him and toss it into the middle of the Sahara desert, presumably to be lost forever.
Yet, in a way, because of Endymion's advertised adolescent shortcomings and Keats's obvious association with a certain kind of poetry revolving around Leigh Hunt (the poetry of fancy and sociability, of occasion and recreation), it is clear that Keats desires to carve out his own independent position as a thinker and poet, especially relative to Hunt's inflated sense of his own poetic accomplishment (to Haydon, 21 March). He has already confessed to one of his publishers and friend John Taylor, that Endymion is a Pioneer of sorts, that his new poetical Axioms will be that poetry display fine excess, implying that the Huntian model luxuriates too much in its excesses. As he progresses, Keats aims for a tone and style that will appear content, emerge naturally, and assume a sober, stilled hold over both the subject and the reader—all the things, that is, that most of Endymion does not do (27 Feb 1818); it remains a poem riddled by pushy, incongruous rhymes and muddled in meandering plot.
Although Keats's long poem begins with a perfect line that perfectly captures his developing poetic credo—A thing of beauty is a joy forever—and although the opening passage fluently expresses how lasting beauty in nature and literature can counter and lift the pall / From our dark spirits, the bulk of the poem is aesthetically unconvincing. It is, in short, hardly a joy forever—though the poem seems to go on forever—and Keats knows this. In his preface, Keats is a good-enough and honest critic to rightly point to its sandy foundations and its mawkish, thick-sighted ambitions. It is about as random and ineffectual as, say, his earlier longish non-titled poem I stood tip-toe upon a little hill, but, as in the tip-toe poem, there is little to block the jingling couplets or jam over-employed enjambment. At least in the earlier poem, the poet seems to be having a little fun in randomly spotting all the flora and fauna, and in imagining the wonderful human sources of mythology. But the poem's haphazard direction can be represented by an almost laughable line: after noting laburnum, wildbriar, violets, a youngling tree (ouch!), a streamlet's rushy banks (double ouch!), blue bells, woodbine, sweet peas, skittish minnows, goldfinches, as well the imagined presence of an alluring, auburn-haired, nimble-toed maiden, Keats writes, What next? (29-106). Indeed! Endymion, by comparison, reads more like a job carried with a determined rather than inspired sub-text: How do I keep this poem going?