27 October 1816: Haydon & the Intellectual Network
Pond Street, Hampstead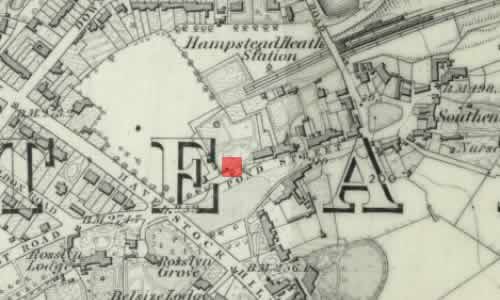 7 Pond Street, Hampstead: Where Benjamin Robert Haydon, the well-known historical painter, temporarily lives, apparently because of eye troubles, which he attempts to remedy by rest. Keats, twenty years old, has just met Haydon through poet, critic, and celebrity journalist Leigh Hunt. After an initial meeting or two, on 27 October 1816, Keats lunches with Haydon. About a week later, Keats breakfasts with him at his studio, and according to Haydon, Keats from this point has an open invitation to visit Haydon. Some time in early December, Haydon will make a life-mask of Keats, which has become an iconic representation of Keats.
The relationship between Haydon and Keats (Haydon is almost 10 years Keats's senior) is highly enthusiastic and takes little time to become emotionally charged with feelings of mutual support and praise. By March 1817, Haydon is capable of signing off a letter to Keats with the words, let our hearts be buried in each other, and on 8 May 1817, ever & ever yours. And by 10/11 May, Keats is certain that Haydon loves him like a brother, and that Haydon understands Keats's own turmoil and anxiety better than anyone else. Haydon, though, will later prove to be somewhat combative and touchy with some of Keats's other friends, as well as plagued by other personal and professional difficulties.
Haydon's is one of the first of many important relationships that begin to form, expand, and challenge Keats's ideas about art and poetry—and the qualities of the poetic character. Haydon is extraordinarily supportive and, now and then, protective of Keats. Haydon believes the two are linked by unacknowledged genius and destined greatness; Keats, at least, is a little more humble, though, via Hunt, the idea of fame confuses his larger poetic goals. But we have to get close to this moment, and to imagine how young, unknown Keats must have felt being touted so strongly by the older, more famous figure, and a public defender of great art. Contact with Haydon no doubt propels Keats's early poetic ambitions.
Keats, then, excited about meeting such persons as Hunt, Haydon, and young poet John Hamilton Reynolds, who between them know many of the other literary greats of the age, including William Wordsworth, Samuel Taylor Coleridge, and Lord Byron. This constitutes the important intellectual and social network essential to who and what will influence Keats's poetry.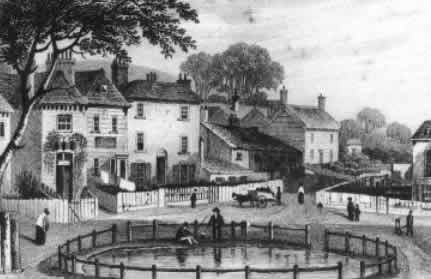 Keats's excitement—awe, even—over his growing associations is expressed in his sonnet Great Spirits, written 20 November, which, in highly praising the cultural distinctions of Wordsworth, Hunt, and Haydon) is a follow-up to another sonnet, Addressed to Haydon, which bows to Haydon's gallant work and stedfast genius.
Keats has not quite picked up on Haydon's competition with Hunt over the attentions of Keats and Reynolds, though Keats later discovers this. (Reynolds, by November, is, like Keats, smitten by Haydon, and he writes a gushing sonnet to him, which places the majestical, immortal, sweet, radiant genius of Haydon beside that of Michelangelo and Raphael.) Fairly early on in their relationship, Haydon warns Keats off Hunt's influence, which may not be a bad thing in terms Keats's poetic progress. Haydon, often put off by Hunt, will later in his autobiography refer to the group around Hunt as the Examiner clique, a group who spend a lot of their energies puffing each other up. Of course this sounds somewhat resentful and suggests a certain lack of self-awareness: Haydon himself thrived on praise, and when he didn't get it, he was capable of fairly openly praising himself while condemning those who don't recognize his achievements.
About a year later, and in a moment when Haydon's more quarrelsome nature does surface, Keats will recall that it only took him about three days after first meeting Haydon to get enough of his character to not be surprised by his uneven conduct (letters, 22 Nov 1817). And by early 1818, Keats takes a little glee in giving an account of overblown quarrels that touchy Haydon has over things like unacknowledged invitations and unreturned silverware (letters, 13/19 Jan 1818). Keats, though, will generally view Haydon as one who has been my true friend (letters, 20 Dec 1818). But in the end, money issues (borrowing, lending) will partially compromise the relationship between the two, with this coming to a head mid-June 1819, when Keats tells Haydon that he needs money more than Haydon does, and he asks Haydon to return a loan he made to him earlier in the year: Do borrow or beg some how what you can for me (letters,17 June 1819). Money troubles plague both Haydon and Keats.
Haydon, in remembering Keats after his death, will recall him as someone possessing utter belief in his higher calling as a poet; that Keats eventually comes to bow to the influence and importance of Milton and Shakespeare; and that he was gentle, unselfish, and personable, though also at times resentful and haughty. Haydon also eventually perpetuates the myth that Keats's failing health and despondency is the result of the nasty treatment he receives from a few contemporary critics. Haydon himself is extremely touchy about how he himself is treated by the some of London's artistic circles—they are, in effect, fellow victims.