31 October 1795: Keats is Born
Swan and Hoop Inn and Livery Stables, 24 Moorfields Pavement Row, London: where Keats is likely born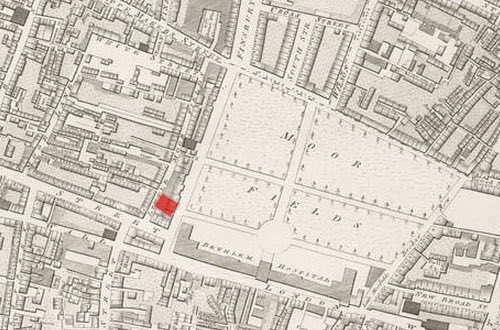 Keats is likely born at the Swan and Hoop Inn and Livery Stables, 31 October 1795. He may have been born two months premature, at least according to Keats's friend, Leigh Hunt—a seven months' child, he writes in his essay Mr. Keats with a Criticism on his Writings, from Lord Byron and Some of his Contemporaries (1828). Hunt also writes that Keats was born on 29 October 1796, which casts some doubt on Hunt's facts. To put the British Romantic period into generational perspective, this also happens to be the month of Samuel Taylor Coleridge'sunfortunate marriage to Sarah Fricker.
Keats's mother's family run and own the livery stable. Keats's father takes over the business in 1802/3, after having been head ostler. Part of the business is known as Keat's [or Keates's] Livery Stables. They make a very decent living from the relatively large business, and any suggestion that Keats's family is of a lower social order is wrong —there is relatively decent money in the family, though after the death of the two generations ahead of Keats, financial uncertainty will follow and then plague the adult Keats. How much money is there? Who is entitled to it? Where is the money? But we have to remember: there will be enough family money to send Keats to a good school (Clarke's academy), to pay for his full medical training (which he completes), and to allow him to not work for about four to five years while he works on his career as a poet; but in the end, as 1819 moves into 1820, Keats basically lives off diminishing credit as well as loans from friends; he (and apparently the family trustee, Richard Abbey) is unaware of a fairly decent sum of family money held by the courts.
There are more than a quarter of a million horses in the London area at the time, and taking care of them is big business and essential. Given that a horse can create more than 25 pounds of manure a day, math tells us what the streets might have been like and the magnitude of the job required to keep streets relatively clean. The livery business picked up much of the work required to manage all those horses: grooming, shoeing, harness and carriage repairs, horse and carriage rental, supply associated equipment and feed, stabling and providing stalls. Grooms and stable boys had to be hired and managed, and blacksmiths, leather workers, and farriers were part of the operation. There is no equivalent today, unless you might create an all-in-one hotel, restaurant, gas station, car wash, car rental, storage place, and mechanic's shop. If well run and in the right place, a Regency livery business could be lucrative.
Owning a horse in Regency London was quite expensive. It is not likely that any of Keats's London friends owned their own horses or carriage.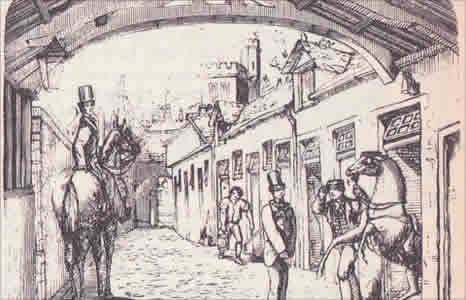 And in 1795, the year of Keats's birth? Prime Minister Pitt's government, in an effort to curtail the growth of radicalism and reform, introduces laws that ban unlawful assembly and actions than can loosely be deemed treasonable. There are worries over living conditions of the poor, given some outbreaks of famine and the price of food. France invades and captures Holland, but also abolishes slavery in its colonies. Coleridge lectures (with William Southey) in Bristol early in the year. Coleridge and William Wordsworth meet for the first time. Hannah Moore begins publication of Cheap Repository Tracts. Johann Wolfgang von Goethe publishes Wilhelm Meister's Apprenticeship. Marquis de Sade publishes Aline and Valcour and Philosophy in the Bedroom. Helen Maria William publishes an installment of her letters from France: Letters Containing a Sketch of the Politics in France. Thomas Carlyle and John William Polidori are born, and James Boswell dies. In 1795, the Royal British Navy mandates the use of lemon juice to stop scurvy, and a 56-pound meteorite falls in Yorkshire field; today a structure stands at the point of impact—the Wold Cottage meteorite monument.